International webinar: Waste Free Rivers. From source to sea, challenges and solutions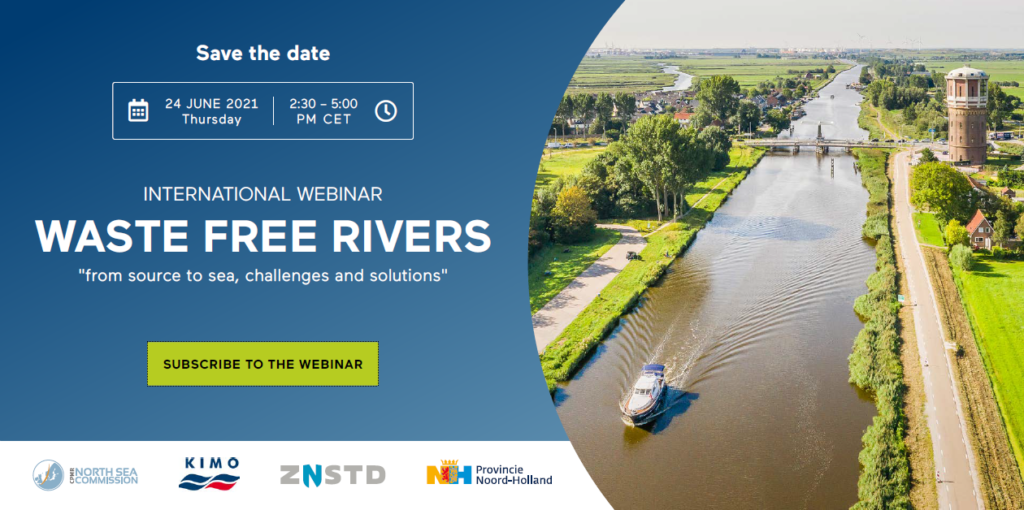 This online event will take place on June 24th and has been organised by the CPMR North Sea Commission. The focus of this webinar is on the biggest source of the problem: 80% of marine litter is land based and unfortunately rivers have become "plastic highways" to our seas. River policy is in fact Ocean policy!
Over the past 50 years the global production of plastics has increased twentyfold, reaching 322 million tonnes in 2015, and is expected to double again over the next 20 years. We need to make sure we start at the beginning, create a "waste free society" and produce recyclable plastics. At the same time we also need to stop the leakage into our environment.
For who?
This webinar is targeted at politicians, policy advisors at European, national, regional and local level in the field of circular economy, public space, water management, waste management, climate and the environment. Waterboards, harbours, universities, innovative companies are all invited to join!
Why?
We need an international integrated approach to tackle this problem and take better care of our seas. They are the lungs of our planet, producing half of the oxygen we breathe. Let's take a deep breath and initiate change!
Result?
Our webinar will offer practical solutions to a joint approach, share the latest information on the effects of marine litter presented by OSPAR, prediction models for river litter will be presented by the Clean Atlantic Project and we will provide practical "hands on" innovative solutions based on some inspiring examples. Elected officials from local, regional and national levels will join a discussion to identify a way forward in a more circular approach. Our event is therefore specifically meant to pave the way to tackle challenges as well as stimulate solutions!
Looking forward to seeing you on June 24th!
If you have any questions, get in touch with Yolanda Schmal: 
REGISTER HERE
More information of the event in the link