Interview to KIMO, new partner in CleanAtlantic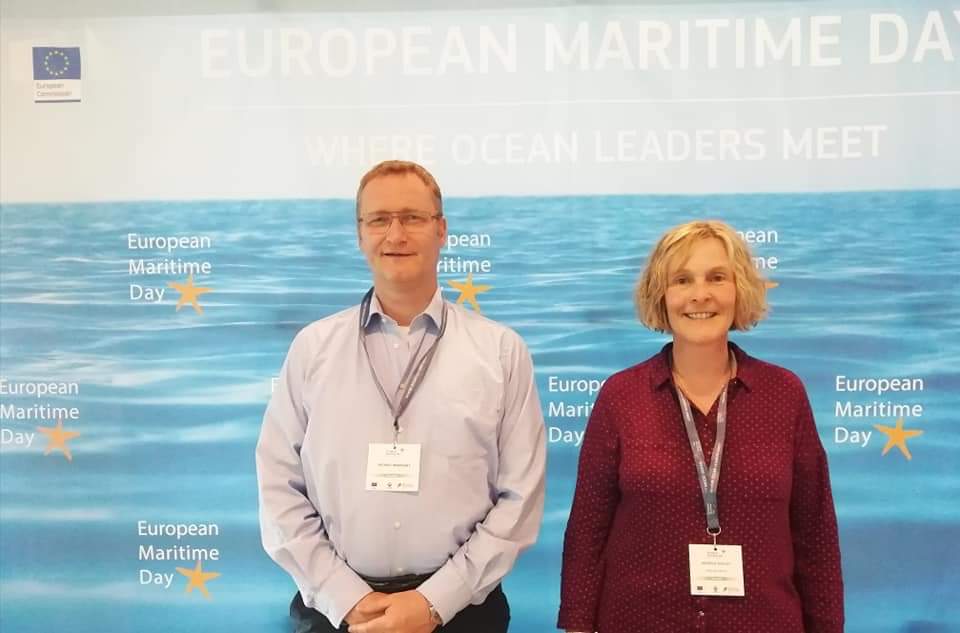 Hello Mike and thank you for having a chat with us today!
KIMO has been an associated partner of the CleanAtlantic project and joined the consortium as a full partner in 2022 to contribute to the work on Marine Litter Control and share your expertise in the Fishing for Litter Initiative. Why did you initially join the project and how have you experienced this new role within CleanAtlantic?
Answer: KIMO is an association of coastal municipalities, that works in 9 NW European Countries. It has initiated the Fishing for Litter scheme in 2000-2001 in the Netherlands. It started locally with 10 fishing vessels and 3 ports and became an international project via our umbrella organisation, KIMO International, in 2002. In 2014, the initiative expanded when it was included as a voluntary action in the Regional Action Plan of the OSPAR Commission and after some lobbying, it was included in 2019 in the EU Port Reception Facilities Directive revision (2000/59/EC).
Our mission is to prevent pollution and to protect, preserve and enhance the seas and coastal waters of the North-East Atlantic and Baltic regions. Therefore, the actions that are part of the CleanAtlantic Project as such fit perfectly with our objectives as we currently mainly work on addressing Marine Litter.
What did you develop throughout the project? How did the project influence your work?
Answer: With the project, our organisation works in the United Kingdom and the main objective now is to do an assessment of passively fished waste, net cuttings, and end-of-life fishing gear. A port assessment is in the making in the United Kingdom: we have recently sent a survey to ports, and we try also to develop a number of pilot projects.
It is beneficial to us as it gives insights in what kind of littering are happening in United Kingdom ports or also how we can better enforce actions.
What did you learn from the project? How does inter-regional cooperation can foster the fight against marine litter according to you?
Answer: We already work internationally in 9 countries so for us it is very important that we work together with more countries to share the message and to have more impact. What we have learnt from the Fishing for Litter project is that it is not so easy to have pilot projects implemented without additional fundings: we asked 6 ports but they didn't want to as they need fundings to complete pilot implementation. We are now looking for new pilot projects and we just received a message saying we have pilot ports identified.
It is not about good will only. It is also about the money and the pressure behind it as well. Nonetheless, there is quite a good will to participate to the project, so that is good to know.
How do you think the results of the CleanAtlantic project can be useful for regional and local communities to tackle marine litter?
Answer: The CleanAtlantic project is addressing for a large part what the North-East Atlantic Environmental Strategy and the OSPAR Regional Action Plan are mentioning.
There is a lot of knowledge behind this project, which is very good. And because of this, the actions that have been invented by the partners, including KIMO, but also all the partners, can be taken further down than if we work by ourselves.
What is your best CleanAtlantic memory?
Answer: Our Coordination Meeting in beautiful Madeira is a nice memory. The discussions that we were able to hold were very interesting. Also, to be able to connect with partners is valuable, as I'm from the Netherlands with a British team. It is also very instructive to learn from other geographic areas on how marine litter is addressed locally and in general.
What are the future activities of your organisation regarding marine litter?
Answer: We try to push the "passively fished waste", which is the new name for the Fishing for Litter waste, in the Port Reception Facilities Directive, and we try to help the European countries, DGMARE and European Commission to implement it Europe wide. We also keep on promoting important projects such as CleanAtlantic.
At our last Annual General Meeting of our members in the Faeroe Islands, we have adopted "Riverine Litter" as another key topic as well.
Many thanks for your time!
You can find all information about KIMO on their website: https://www.kimointernational.org/