CleanAtlantic Regional Policy Toolkit
How to address marine litter in your Region?
This toolkit allows to discover the CleanAtlantic project's key achievements and how they can contribute to regional policies and initiatives against marine litter. It is intended to provide guidance and facilitate access to information and resources to regional policymakers to implement relevant and costefficient policies and measures. This toolkit should especially support the work of the CPMR Atlantic Arc Commission Ocean Pollution Working Group, which 14 Atlantic regional authorities joined forces to put regions at the forefront of prevention and reduction of ocean pollution in a series of messages framed in the pledge in favour of a Clean Atlantic Ocean.
Pledge in favour of a Clean Atlantic Ocean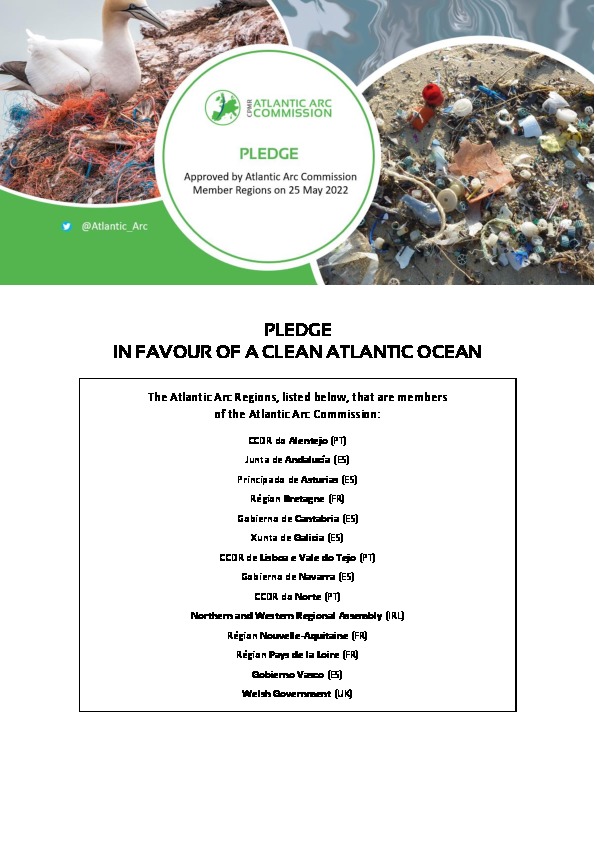 This pledge is a joint political statement from the 14 regional authorities composing the Atlantic Arc Commission, aiming at placing these regions at the forefront of actions in favour of marine litter prevention and reduction and marine environment health improvements. The pledge is embedded in the work of the Atlantic Arc Commission Ocean Pollution Working Group, piloted by Norte Region, Portugal, and has been approved during the Atlantic Arc Commission General Assembly in May 2022. Inspired by the CleanAtlantic Interreg Area project's actions, the regions are expressing their ambition to support the development of collaborative initiatives, sustainable blue economy and circular economy, tackling ports pollution and the impact of land activities, dialogue with users of the sea, and more to frame a collaborative framework at contribute to tackle ocean pollution with a holistic approach.