Business to sea – ASPC 2019 – Interreg annual event – CPMR Atlantic Arc Commission General Assembly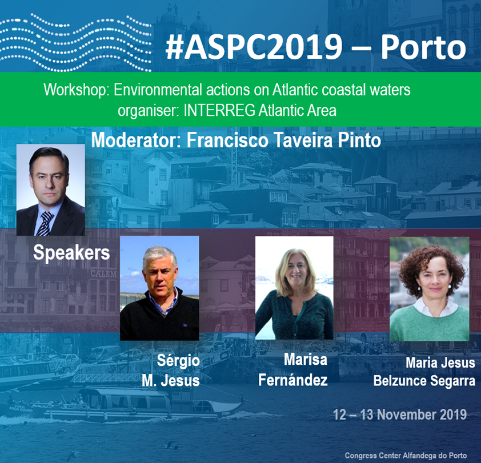 The 6th Atlantic Stakeholder Platform Conference (ASPC2019) took place this year on November 12 to November 13 at Centro de Congressos da Alfândega do Porto, in Porto, Portugal within the framework of the Business2Sea (B2Sea) international conference organized by ForumOceano and CETMAR.
ASPC2019, the annual event of the Assistance Mechanism, is the central hub for stakeholders of the Atlantic Strategy to meet, seek ways of cooperation, share information and identify funding and financial opportunities and partnerships for their projects and business. This year, the format of the two-day event will combine plenary sessions, workshops and networking activities supported by the representatives of the main funding instruments and gives the chance to participants to promote and identify interesting project ideas, share good practices, make valuable contacts and explore areas for cooperation.
Also, at the same time, the INTERREG ATLANTIC AREA programme discussed specific environmental actions undertaken on Atlantic coastal waters through its project initiatives and proceed to further explore possibilities to promote environment, climate action in its next programming period. The programme organised the Workshop: Environmental actions on Atlantic coastal waters in which CleanAtlantic participated to discuss about the marine litter threat. Marisa Fernández, the CleanAtlantic coordinator, presented the project and the activities carried out in the project up to date.
CleanAtlantic dissemination materials such as the project poster and leaflets were exhibited in the CETMAR and INTERREG stand during the three-day Business2Sea event.
The Atlantic Week in Porto was concluded by the General Assembly of the CPMR Atlantic Arc Commission, one of the partners of the CleanAtlantic project. This event was the occasion to share information and exhibit the project to the 15 Atlantic member regions.