CleanAtlantic pilot action to remove marine litter in collaboration with the Cambados Fishing Guild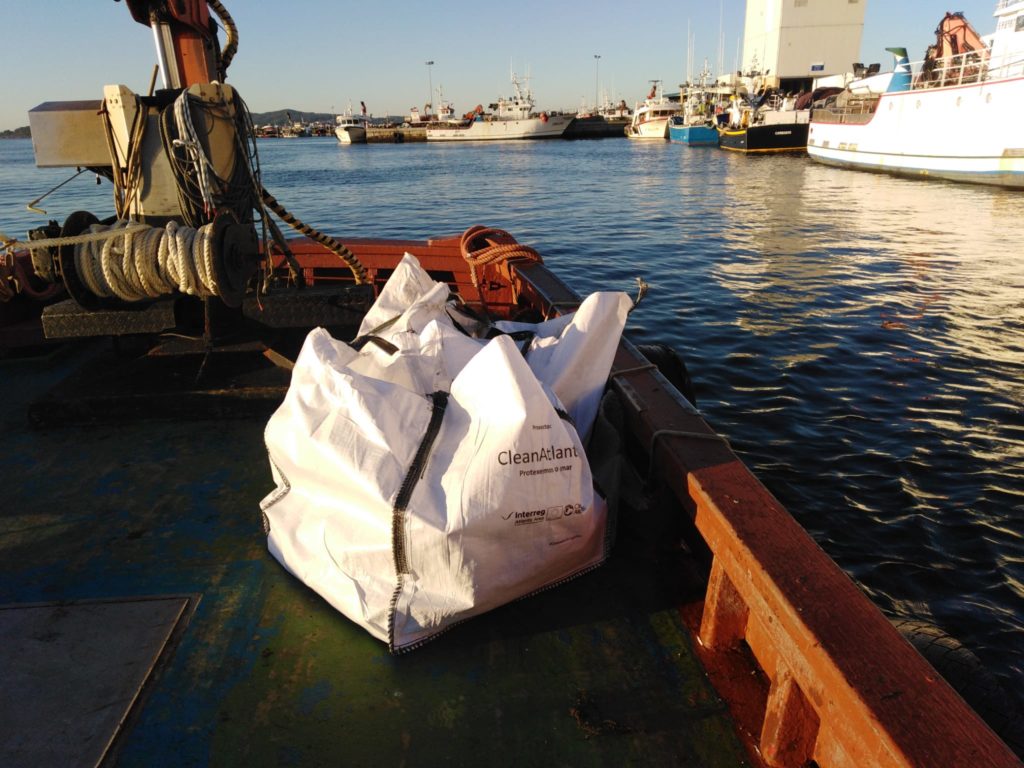 CleanAtlantic and the Cambados Fishing Guild organize a campaign to remove marine litter from the Ría de Arousa
The scallop trail fleet of the Cambados Fishing Guild began this Monday, December the 2nd, a three-days campaign to remove marine litter from the Ría de Arousa seabed. This action, organized by CETMAR, is part of the CleanAtlantic project pilot actions planned as part of their fishing for litter activities. Covadonga Salgado, director of the Technological Institute for the Control of the Marine Environment of Galicia (Intecmar) and project partner, supervised the launching of the operations in the port of Tragove on the first day of the campaign.
The fishing for litter campaign in the Ría de Arousa is carried out with the collaboration of the Cambados Fishing Guild and consists of the location and retrieval of litter from the seabed by using the fishing gears used by the scallop trail fleet during the development of their daily activity. The litter that sea professionals are recovering is deposited in specific bags ('big bags') placed on board the boats and a mussel boat in which the CETMAR team is working acts as an central point for the deposit of these bags so that they do not hinder the fishing activities.
Bags with marine litter removed from the sea are weighed, characterized and taken to the port for the study and management of litter within the framework of the pilot actions programmed in CleanAtlantic. This pilot action allows to study the most appropriate operational and logistic conditions for the removal of marine litter with the collaboration of the fishing sector, and also allows to study the capabilities of the different devices in these cleaning actions.
The information obtained in these actions informs about the best operating conditions for the collection of litter, its origin and the quantities, as well as the impacts on the environment, which provides fundamental information to later design measures aimed at reducing and managing the litter that reaches the marine environment.
The action initiated today in Cambados is a continuation of the one carried out by this Fishing Guild at the beginning of November and in which the "bou de vara" fleet removed about 3,000 kilos of marine litter in the inner zone of the Ría de Arousa.